HELLOWEEN High Live Castle CMFVD1315 (2006)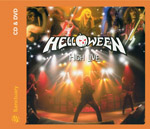 Helloween were always at the forefront of European speed trad metal, despite the Maiden similarities.
This live set was recorded in May/June 1996 across 3 shows in Italy and Spain, and as a live album it's as good as you'll get from this crew.
The package is spread across 2 audio CDs and the entire set on one DVD. So with 3 discs and a booklet with lyrics etc it's a good package.
The line-up of vocalist Andi Deris, guitarists Michael Weikath and Roland Grapow, bassist Markus Grosskopf and drummer Uli Kusch do a fine job, taking us through every posture and cliché you'd expect from a heavy metal concert, and not much wrong with the setlist either.
Only criticism of the DVD is the switching of shots rather quickly at times.
The idea for a complete show on both CD (or 2 in this case) and DVD combined works well, especially when in a CD sized case.
Clichéd yes, but fun too.
****
Review by Joe Geesin