HELLOWEEN Reissues Castle (2006)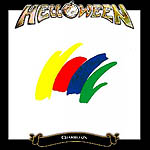 Continuing with Sanctuary's reissue campaign of their career, we get four more Helloween albums expanded to the max.
Issued in 1993, Chameleon (Castle CMQDD1312(71:22) (41:25)) was a far more serious affair, more progressive metal than the power speed metal of the 80s. Consequently the fans passed it over and those who did buy it weren't the hardcore fans of before. That said, it is solid melodic power metal with a Maiden nod. The long running time was originally released over a double album, a serious album giving a range of styles; vocalist Michael Kiske and guitarists Michael Weikath and Roland Grapow all on form but contributing songs individually.
Opener First Time is a strong addictive heavy number but the album as a whole is inconsistent. This was Kiske's last album with the band, all change again! **
With new vocalist Andi Deris and drummer Uli Kusch, the new album Master Of The Rings (Castle CMQDD1313 (50:21) (34:42)) was a far heavier, consistent and more cohesive album. More succinct, something the fans could deal with and it put the band back on track. From the opening chords of Sole Survivor and Where The Rain Grows you know you're in for a feast. Power metal at its best. ****
Mid 90s and The Time Of The Oath (Castle CMQDD1314 (61:36) (30:37)) was a concept album based on the predictions of Nostradamus; fitting with the end of the millennium fast approaching. Although the band were not in the public eye as they were in the 80s, this album is their darkest, and of the 90s their heaviest; many fans would swear this their best. Rightly so. The dual guitar work blistering to say the least. Melodic speed metal with great vocals make for a superb album. *****
1997's Better Than Raw (Castle CMQDD1316 (73:55)) with a consistent line-up working fluidly, saw a progression in the sound. Less trad metal, it's far more modern and one of Helloween's heaviest too. Seriously mosh inducing, the vocals remain clear, some of the harmonies working well. ****
All these sets are excellently packaged, all with bonus tracks (three expanded to two discs) and the sleevenotes contain band interviews. A strong template for the European speed metal that's as popular now as ever.
Review by Joe Geesin