HELLFUELED 'Born II Rock' Black Lodge (2005)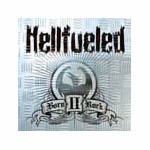 I never usually judge a book by its cover, with a title like 'Born II Rock' and a quick look at the song titles on the back of the promo, I feared the worse.
It didn't take long for my fears to be laid to rest. Opener 'Can't Get Enough', despite the title, is a bone crunching rocker, with some great Zakk Wylde-sque riffing and a vocalist which sounds a lot like none other than Ozzy himself. In fact if you had played me this songs and told me it was a song from the new Ozzy album, I would have been fooled. Vocalist, Andy, no second name please, in fact more Ozzy than Ozzy ever was. Which is a good thing. Hellfueled are influenced by the likes of the prince of darkness, with a touch of Skid Row. Guitarist, Jocke Lungren, is a monster riffer, with some huge sounds coming from his Les Paul. His solo's are short and sweet, with loads of melody and very European sounding, a la Norum and Sykes.
I really am taken back by Hellfueled, they are a real surprise packet, compact songs, with great riffs and catchy chorus that stick in your head long after the songs ends.
With a short running time (37 minutes), there really is no room for error, 11 songs, not one duff, not a moment of filler. Hellfueled, know how to write a catchy song. The bonus is the great singing of Andy, who is more Ozzy than Ozzy, yet at the same time, dosen't come across as a mere clone, stamping his own authority over proceedings.
This is one I am going to play again and again.
****
Review by Graham Boyle