HELICONIA Glad You Were Born Isolation Recordings (2006)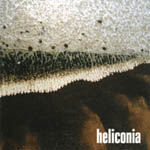 Being a GRTR! reviewer is a journey of exploration. There was me thinking that Heliconia was a plant found in the tropics of the Pacific commonly known as the lobster-claw, or false bird of paradise. Which is, incidentally, an important food source for the hummingbird.
Well, apparently the name has been adopted by a 3-piece rock outfit who specialise in shoegazing. For those who do not have a 'shoegazing' section in their catalogue (and I count myself amongst that segment of the rock listing public), shoegazing is a phenomenon said to have been forged by bands like My Bloody Valentine and Loop. A sound charactarised by hypnotic rhythms and a wall of distorted guitar sound
And if you're wondering where the term came from, it's because purveyors of the genre are constantly looking down at their feet as they switch reverb and delays.
Heliconia - Michael Tickner (vocals, guitar, samplers and synths), Jon Lamont (drums, percussion) and Neil Vestrini (bass and vocals) - purvey both 'neo and classic(?) shoegaze - adding a strong sense of melody to the equation where elements of Floyd and Coldplay can be heard emerging to add elements of classic prog. But essentially what is on offer here is a new hybrid underground psychedelic rock influenced by everything that's gone before from Black Sabbath to The Stone Roses.
It's not a mix that delivers instant gratification, but work at it and you'll be rewarded some moments of driving rock and some of melodic beauty. But this is going to appeal primarily to those whose rock publication of choice is NME (as opposed to old farts who favour Classic Rock and Q).
Heliconia - a band well named - they float like a hummingbird and sting like a lobster.
***½
Review by Pete Whalley
Girl I Need You
© 2006 Isolation Recordings. All rights reserved.
---
| | |
| --- | --- |
| | Print this page in printer-friendly format |
| | Tell a friend about this page |