HAYLEY HUTCHINSON 'Independently Blue'
Gut (2005)

CD Single : Here's The Love (Gut CDGUT72) (2005)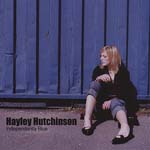 York's Hayley Hutchinson is one of the latest in the current crop of UK singer/songwriters. Feted by the likes of Wogan and other Radio 2 luminary 'Whispering' Bob Harris, the album is a classy collection of folk / pop with the emphasis mostly on folk.
The first single 'Here's The Love' - released in advance of the album - is a catchy up-tempo pop number. But thereafter the album moves into more gentle, introspective territory such as that occupied by Sophie Zelmani.
The title track adds banjo to good effect, Hayley's vocals echoing sixties songstress Mary Hopkin. Her listed influences include Crosby, Stills & Nash, Neil Young, Dylan, Joni Mitchell, Nick Drake and Jeff Buckley and give a broad hint at the general direction of the material.
Independently Blue is a mature, well recorded and produced debut. Its not going to sell by the shed load and make Hayley a household name, but it should make her a well-respected performer on the folk circuit.
****
Review by Pete Whalley
Deadman
© 2005 Gut Recordings. All rights reserved.