HAWKWIND Take Me To Your Future
Voiceprint HAWKVP38DD (2006)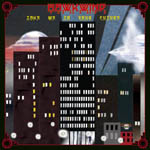 This dual disc (CD and DVD on 2 sides of the same disc) sees some new Hawkwind material, or is it remixes / rerecordings? Whoís to say? The booklet gives full lyrics but not a lot else.
Opening track 'Uncle Samís On Mars' is definitely a retake on a classic from the PXR5 album (an album that desperately needs reissuing properly) - 8 minutes of classic space rock and Hawkwind at their best. Also a political comment as relevant now as it was back in 1979; 'Earth may be a desert soon, America has left the moon'.
'Small Boy' is a more acoustic, almost folky number, and 'The Reality Of Poverty' features Arthur Brown on vocals. Two of these tracks are from the forthcoming Brock/Calvert project.
Finally thereís a remix of the classic 'Silver Machine' - a pointer to how Lemmy sounded years before forming Motorhead. A song you canít go wrong with.
Seven more tracks on the film side should please Hawkfans everywhere. Audio wise, just between 'Silver Machine' and 'Uncle Sam' you canít go wrong here.
***½
Review by Joe Geesin