HAWKWIND 'Oscillations'
Alchemy Magic STRTR169(2003)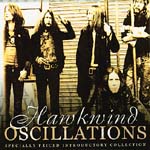 Yet another Hawkwind compilation! This band must have more than any other band, bar maybe Uriah Heep! This is a collection of eight live recordings, all from 1972 shows. You get Lemmy appearing on six tracks, the other two live tracks on here were recorded after he left the band. The line-ups on here are pretty near the classic line-up with mainstay Dave Brock joined by the aforementioned Lemmy, Nik Turner, Dik Mik, Simon King and Del Detmar amongst others. 'Master of the Universe' is here in all its space rock glory plus the folk tinged 'Hurry On Sundown', plus other live favourates like 'Sonic Attack' and 'Space'. The sound quality is fine and its not a bad live snapshot of the band's long and colourful history.
***
Review by Jason Ritchie

Seven By Seven
© 2003 Hawkwind/Alchemy Entertainment Ltd. All rights reserved.