GUN 'The River Sessions '
River Records RIVERCD044 (2005)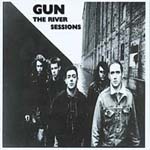 Gun were very much a nineties phenomenon: a competent rock band who aped some of their seventies and eighties idols whilst not really offering up true originality. Many fans will have been confused with another Gun from an earlier period (the ones that produced the classic 'Race With The Devil') and interestingly the band later became known as G.U.N.
There are echoes of the band's countrymen Big Country, with the rolling guitar choruses, and an infusion of punk added some energy to the mix.
Think a nineties Rooster, but with a greater quantity of covers. The twin-lead guitar recalled Thin Lizzy but lacked their fire, whilst Mark Rankin's vocals could have appeared on any airbrushed US melodic rock release. The band had some success with their debut, and several hit singles, all featured here and were essentially an excellent live act, supporting Simple Minds and the Stones in their formative years.
Here, on homeground, they couldn't really put a sneaker wrong. Recorded for Scottish Radio in 1990, 1992 and 1995 this amounts to a definitive live record. The first gig on this generous 2-CD set is from Glasgow Barrowlands in February 1990 and showcased material from their debut album. Disc 2 features gigs from 1992, 1995 and 1997 but strangely there are only two tracks from the band's second album 'Gallus' and the rest major on the band's take on Bowie, Bolan and Rage Against The Machine.
In late-1997 after the release of two more albums, with one produced by INXS' Andrew Farris sounding the death-knell, Gun split.
This will be an essential purchase for those that recall Gun, and it's another treasure from the Radio Clyde archive.
****
Review by David Randall

Taking On The World
© 2005 River Records. All rights reserved.