Just witnessed your best live gig?..send us a review!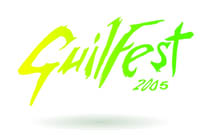 GUILFEST 15-17 July 2005
GUILFEST - Day One Friday 15th July 2005
( Reviewer: Jason Ritchie) )
Arrived just after 7.30 so, sadly, missed THE PROCLAIMERS So instead, I set off around the plethoria of stalls and eating places they have at the Guilfest. Everything from Indian cuisine to milkshakes via pancakes and coffee bars (this is what is there, not my evening meal I hasten to add!).
There are even more music tents this year with two for unsigned bands and the Rock Sound Cave where I saw a packed, sweaty crowd enjoying the metal strains of MILLION DEAD and RUEBEN. Both drawing in the younger crowd, who were definitely fans of both bands.
Nest THE PANIC on one of the unsigned stages - not bad at all. Good. solid indie guitar based rock but sadly only a sparse crowd. Then off to the Uncut stage, the second big stage after the main Radio 2 stage. The folk rock of the TWELVE SULLIVANS went down a treat. Plenty of fast folk numbers and some excellent fiddle playing. Later I caught some of RICHARD FONTAINE's set of mellow country and to be honest it left me bored senseless...
Back on the main stage ALABAMA 3 were playing their bizarre mix of dance beats/loops mixed with slide guitar and a frontman who is definitely on another planet! Not bad and the crowd seemed to enjoy them but after awhile it began to drag for me with a lack of variety.
THE POGUES were headlining tonight with Shane McGowan looking like death warmed up and as usual he was very drunk. To be honest, the band are so talented but are let down big time by this daft bugger and his voice seemed to have lost some of its power as well.
Also McGowan kept saying 'boom' a lot between songs which I sincerely hope was not a reference to last week's London bombings. So instead I headed of to the Uncut stage to see the HOTHOUSE FLOWERS who were playing a storming set - they mix a bit of soul with folk and rock. They worked the crowd well - something the Pogues sadly lacked apart from Shane McGowan's drunken ramblings. Hothouse Flowers were easily band of the day for me and a good end to the first day.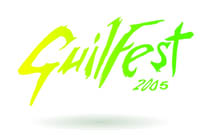 GUILFEST - Day Two Saturday 16th July 2005 (Reviewer: Jason Ritchie)
Back again for another mixed bag of musical styles. First up was singer/songwriter TOM BAXTER, who certainly impressed with his vocals not unlike Jeff Buckley at times. An enjoyable start to the day.
Then it's off to sample this year's Kid Zone as I am with the family today and my daughter is in seventh heaven when she realises the teacup ride and giant slide are back again! I must say this area is well thought out and perfectly safe for children with a circus theme to the toys and apparatus around like last year. Watched a couple of shows including a man who put himself through a wire coat hanger (revealing his bum in the process to which a lady near me quipped 'That's put me right of my pastry!').
Singer/comic KEITH DONNELLY was very good value and certainly knew how to work a crowd – both adults and children. Highlight had to be when he added his own custard lyrics to famous songs shouted out by the audience including 'Anarchy In The UK' and 'Smoke On The Water'. Possibly one of the most surreal moments of the festival!
Then it was off to catch HAL on the main stage. After reviewing their very listenable debut album (think the Thrills meet the Beachboys) I thought they would go down a treat on a gloriously sunny afternoon. Sadly for me they never quite hit the level I thought they would with the bass drowning out the harmonies in places. Still an enjoyable set and I am sure they won over a few converts.
After dropping my daughter off for bedtime it was back for some more. ECHO & THE BUNNYMEN were very good, with a tightly played set and one of the best sounds of the whole weekend. Favourates on display included 'Killing Moon' and 'The Cutter'.
As I tried to give a full flavour of the festival and the bands I didn't see many full sets but at least I got a good feel for what was on offer. The only downside to the festival I'd say is that at times bands clashlike The Pogues & Hothouse Flowers last night and Status Quo and Hayseed Dixie on Sunday. Anyway, next up was the Surrey Herald local bands tent with FIRE IN THE SOUTH. This band try to be latter day Pink Floyd but sadly fail big time. Very average tunes and more like spark in the south as I doubt they'd start a fire with this brand of music…
Off to the Rock Sound Cave for RAGING SPEEDHORN. Blimey they are scary! Great, shredding riffs but then the vocals start – I just don't like 'vocalists' who sound like Animal from the Muppets being sick in a toilet. But if you like bands like Trivium you'd be well advised to check this band out pronto.
RALPH MYERZ & THE JACK HERREN BAND were certainly getting the crowd going on the Uncut stage. A strange line-up of two drummers at the front of the stage backed by a guitar and dance beats. For some strange reason reminded me of Tangerine Dream and Afro Celt Soundsystem. Certainly I will be checking out more about this band.
Caught the first half hour of PAUL WELLER's set which had drawn a massive crowd – biggest I've seen so far at Guilfest. I like the odd tune but not really my scene, although he was going down a storm with the crowd.
THUNDER headlined the Uncut stage to a much smaller crowd than Mr Weller. They came on 10 minutes late which is a shame as the 11pm curfew is very strict but they soon hit their stride. You know what to expect with Thunder and they never let you down. Well played, catchy hard rock with just the right amount of ballads.
Many of the crowd were maybe unfamiliar with the band bar their singles (although the lady in front of me thought 'Love Walked In' was a cover of a Wet Wet Wet song!!!). The recent single 'I Love You More Than Rock' N' Roll' is a tune made for gigs, whilst 'Low Life In High Places' and 'Higher Ground' kept the older fans smiling. An excellent end to the day, just a shame they couldn't have been 2nd or 3rd on the main stage as they would have gone down a treat and had a much bigger crowd to play to.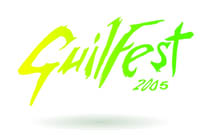 GUILFEST - Day Three Sunday 17th July 2005 (Reviewer: Jason Ritchie)
Only a brief visit today due to prior commitments but I did enjoy the UKUELE ORCHESTRA OF GREAT BRITAIN. They play covers and of course feature ukueles. Highlights included the Black Crowes 'Hard To Handle' and a stab at Nirvana. The sort of band that you may not have CD's off at home but is good to listen to at a festival.
Bit more fun in the Kids Zone and then back to see the closing numbers of the ZOMBIES set. Vocalist Colin Blunstone has lost none of his power down the years and they seemed to go down well with the crowd. Just before we left we saw a bit of CHAS & DAVE and to be honest that's a bit too much for me! They are a crowd pleaser but these Cockney songs just leave me cold but you can't knock their ability to work a crowd and get them involved.
Another great Guilfest which maybe not as 'hip' as others but for me that is its appeal as it has good music, good times and again this year, good weather. Can't ask for more than that at any festival really. Looking forward to next year and my vote for a headliner goes to Robert Plant – he would be perfect.
GUILFEST - Day Three, Sunday 17 July 2005
Marillion (Reviewer: Nick Edwards)
"Play Grendel!" shouted the man behind me, almost as soon as 'Los Marillos' (as the band seem to have taken to calling themselves in fan-club updates) hit the stage.
"They've only got 40 minutes!" came the instant response, thus ending that particular long-time fan's dreams of hearing one of the lengthy epics from the old days.
Lead singer Steve Hogarth explained to this audience waiting to be impressed that they may vaguely remember the band "for a couple of hits in the 80s" and a Scottish lead singer (Fish), but they had actually released 10 albums since that particular Scotsman left (to enter a world of poor-selling - though often under-rated - solo albums, record company problems and bit-parts in dodgy films).
The band had several people in the audience giving out a 3-track sample CD containing 'You're Gone', 'Drilling Holes' and 'Fantastic Place', all from the most recent album 'Marbles' - and they obviously appreciated that this was an opportunity to gain some new converts. Although many of these samplers were immediately utilised as makeshift frisbees by a boisterous but happy crowd, it will be interesting to see whether enough were retained and listened to for the band's audience to grow.
Hogarth explained that people tended to either 'get' Marbles or not, and I'm afraid that - despite being a long-time fan right from 'Market Square Heroes' days, and sticking with the band after they parted company with Fish (and really loving their second album release after that, 'Holidays in Eden') - I'm in the 'don't get it' (or, at least 'don't like it!') camp.
However, the band then proceded to play storming versions of 'Man of 1,000 Faces' and 'Between You and Me', as well as the aforementioned 'Fantastic Place' and a couple of others from 'Marbles' - and they rocked the joint! I was in the company of several people who were barely aware of the band and their work, and they were all pleasantly surprised.
We heard a real throwback to the old days - a guitar solo! Virtually the only one I heard all weekend. Lead guitarist Steve Rothery is considerably weightier than he used to be, but his ability to both play brilliantly and to integrate a solo sensitively into the general framework of a song has not diminished. Messrs Kelly (keyboards), Trewavas (bass) and Mosley (drums) were their usual solid selves, and stayed in the background as Hogarth ran much of the gamut of his slightly disturbing stagework. As a front-man, he is hard to miss or ignore - and I feel that this is a positive for a band like Marillion, who tend to let the music do the talking.
3 stars out of 5, I reckon.