GREG RIDLEY 'Anthology - All I Ever Needed'
Angel Air SJPCD194 (2005)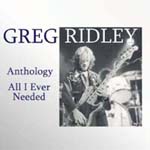 Bassist with Humble Pie, Spooky Tooth and many others, Greg also had a notable solo career until his sad demise in 2003.
The music here is largely drawn from the solo and Humble Pie years, mixing solid blues and hard rock, and some neat guitar solos along the way. Greg was also a great rock vocalist, making the material stand up even more.
Thereís many a classic and more here; Humble Pieís 'Natural Born Bugie' and Gregís own (and vastly beefed up) 'Natural Born Woman', featuring some boogie piano to add to the fat sound.
Fans will appreciate the collaboration with Spanish band Tea.
Sadly the setís light on the 60s material, you really need a double disc to keep up with the very extensive booklet and sleevenotes, but any set that features Steve Marriott, Peter Frampton, Dave Colwell and even Iron Maidenís Adrian Smith has to be worth checking out.
****
Review by Joe Geesin


£12.99
Natural Born Woman
© 2005 Angel Air Records. All rights reserved.