Filmed career retrospective for voice of a generation ...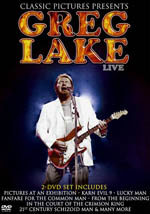 There are few greater levellers in life than the passing of time. And on the evidence of 'Greg Lake Live', the 'voice of a generation' still has something to say in the company of top session players.
Best regarded as a successful career retrospective this DVD breathes fresh life into 35 years plus, of quality music encompassing the groundbreaking King Crimson, the dinosaur rock of ELP and a handful of well-crafted top ten hits.
Superb production values and a well chosen 14 career best tracks aside, this live DVD works simply because the there's a genuine feeling of a band seeking to do justice to some classic material.
Where ELP was ultimately restricted by being a three piece, Greg brings a wider musical perspective to bear on 'Take A Pebble', 'Footprints in the Snow', and of course 'Fanfare For the Common Man'. Key to the musical rehabilitation of his back catalogue lies at the feet of young 22 year old guitarist Florian Opahle who excels throughout in the company of a musically superb if undemonstrative band featuring the excellent Davis Arch on keys, the rock solid Trevor Barry on bass and the percussive talents of Brett Morgan.
Not everything works, 'In The Court of the Crimson King' for example, although superbly played still sounds very much of its time. The Bob Dylan collaboration 'Love You Too Much' is an enjoyable bluesy workout but sits uneasily in the rest of the set, but that said, these are minor blips on the horizon of what turns out to be a virtuoso work out.
On the powerful 'Paper Blood' Greg shows that even when writing for the 1992 ELP reformation he still has some fine songs to deliver and in the self explanatory 'Farewell To Arms' he delivers perhaps the best performance of the night.
For the rest there is an additional disc that includes more live band footage, rehearsals and interviews. Perhaps the telling moment is the coda of 'I Believe In Father Christmas' - a song we all used to hate, which is transformed here by the presence of Ian Anderson of flute and an accompanying choir.
A must for ELP fans and for all Classic Rock fans in general, 'Greg Lake Live', is an excellent DVD and one for the collection.
****
Review by Pete Feenstra
Related>>Interview