THE GREEN HOUSE BAND 'Mirage'
(Market Square MSMCD126)(2003) Release date 16.2.04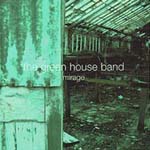 This CD is a little gem. When you get an assembled gathering of musical talent with a pedigree that embraces some folk-rock legends you could expect something special. But the biggest surprise is reserved for the singer: the actress Madeleine Worrall. When not lending her melodious pipes to the Green House Band, she is appearing in London's West End and on TV.
Whilst the reality is such that the Green House may never interfere with her day job, it won't be for lack of trying. Her vocals really lift this album which blends traditional songs with an understated soft rock approach. The latter is left in the capable hands of Graeme Taylor, who in the seventies achieved codpiece notoriety with the mediaeval rock band Gryphon and who it seems has been listening to Pink Floyd. The rest of the band have their own story to tell, Neil McArthur a top West End musical director and composer, drummer Michael Gregory (ex-Albion Band) and bassist Dave Berry performed with Taylor in the John Kirkpatrick Band. This collective is clearly influenced by ace folkie John Renbourn and his seventies band Pentangle.
There are certainly some musical surprises awaiting the curious. Standouts include 'The Drifter' and the long instrumental medley where Worrall engages in some lovely scat singing whilst Taylor and McArthur exchange Renbourn-inspired chords. In one bit this almost treads insipid John Williams/Sky territory before, thankfully, Taylor cranks up the electric. Indeed, one awaits a live version of some of these tracks so that caution can be cast to the winds and the volume can be turned past 9.
With such surprises on offer, it would be churlish to overlook the contribution of the late great Tim Rose. He not only sings on one track but it was he who introduced label chief Peter Muir to the band via a demo.
All we need now is for Madeleine to star in some period epic for which the Green Housers supply a jolly, authentic, and inspiring soundtrack punctuated by electric guitar.
Mirage
© 2003 The Green House Band/Market Square. All rights reserved.