GREASE BAND (HUX045)(2003)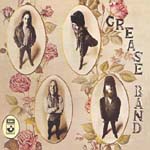 Whilst it's good to see the release of this 1971 eponymous debut, originally issued on the Harvest label, it is rather of its time. Taking a cue from American contemporaries such as The Band and Creedence Clearwater, Grease Band's laid-back and essentially good-time style also aligns them with bands such as Duck's Deluxe and Brinsley Schwarz, but at times also brings to mind the rumbustiousness of The Faces.
The Grease Band started out life as backing band to the hit-selling vocalist Joe Cocker and broke away from this singer in 1969. By the time of the debut, the line-up had settled with Henry McCullough on guitar joining Chris Stainton(keyboards), Neil Hubbard(guitar), Alan Spenner(bass) and Bruce Rowland on drums. After the band's split in 1972, McCullough eventually ended up in Wings whilst Spenner and Hubbard helped form funk rockers Kokomo.
They were a remarkably tight unit, and this CD contains some solid workouts notably 'Willie And The Pig','Laughed At The Judge' and 'Jesse James'. The bonus tracks are from a Radio 1 session in April 1971.
***
Review by David Randall

Jesse James
© 2003 Hux Records Ltd. All rights reserved.