GPS Window To The Soul Inside Out (2006)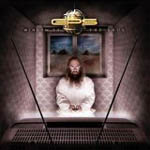 GPS are made-up of the three members of Asia after Geoff Downes left to reunite with the original Asia members. John Payne, along with Downes has produced some classic music since joining Asia in the early 90's and it is a shame the band ended so abruptly.
But music moves on and now John Payne has formed GPS along with guitarist Guthrie Govan and ex-Hurricane/21 Guns drummer Jay Schellan plus Spock's Beard keyboards player Ryo Okumoto is along for the ride. Musically this is a much more progressive sounding band with Ryo Okumoto adding many keyboard solos and flourishes.
'New Jerusalem' is the song nearest to Payne era Asia with its big chorus and the big production featuring strings and Mellotron choir. Sometime the band seems to drift into auto-pilot like 'Heaven Can Wait' or the repetitive refrain of 'Written In The Wind'.
However 'The Objector' has a real 70's prog feel mainly due to the guitars and keyboards. A track made for headphones! Album closer 'Taken Dreams' is the hardest rocking track on here, with its Hammond and layered backing vocals sounding like Uriah Heep.
GPS is a bold move for John Payne as it certainly is a natural progression from Asia's last studio album 'Silent Nation', with GPS sounding more progressive with the emphasis on solo spots and less on four/five minute melodic rock songs.
Lovers of progressive rock steeped in the 70's sound will enjoy this release but Asia fans of albums such as 'Aqua' and 'Aura' may not find this quite what they were expecting.
***½
Review by Jason Ritchie
Window To The Soul
© 2006 Inside Out. All rights reserved.
***** Out of this world | **** Pretty damn fine |
*** OK, approach with caution unless you are a fan |
** Instant bargain bin fodder | * Ugly. Just ugly
get ready to rock is a division of hotdigitsnewmedia group