GOD IS AN ASTRONAUT All Is Violent, All Is Bright Rocket Girl Records (2006)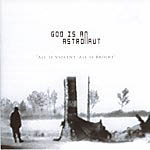 God Is An Astronaut have been riding high in the Irish charts with their A Moment Of Stillness EP - their first proper release outside of Ireland. That is now followed up with their first album All Is Violent All Is Bright.
Formed in 2002 by brothers Neils (bass) and Torsten (vocals, guitars and keyboards) Kinsella, this Wicklow based three piece is completed by Lloyd Hanley on drums.
Their trademark, evident on all their output, is instrumental pieces (vocals are used as an additional instrument) of serene ambience building gently to a searing intensity. Itís an ethereal and powerful sound - and one thatís already proved successful in providing soundscapes for a number of TV and film ads.
God Is An Astronaut are considered by many to be one of the best live acts to emerge out of Ireland in recent years and this album should help cement that reputation. If there is a criticism, itís that without vocals/lyrics one number does have a tendency to blur with another. But if the ambient section in HMV/Virgin is a regular watering hole, then God Is An Astronaut could be your nirvana.
***½
Review by Pete Whalley
***** Out of this world | **** Pretty damn fine |
*** OK, approach with caution unless you are a fan |
** Instant bargain bin fodder | * Ugly. Just ugly
get ready to rock is a division of hotdigitsnewmedia group
Why should I buy this CD?
Ambient rock supreme.
Burn baby burn
All Is Violent All Is Bright, Forever Lost, Fire Flies And Empty Skies, When Everything Dies