GNIDROLOG 'In Spite Of Harry's Toe-nail / Lady Lake' BGO BGOCD637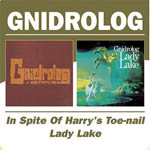 Just when you thought the reissues industry had drained the vaults of progressive rock dry, still they come ... Not every exhumation is pleasurable: much second division catalogue is littered with portentous and turgid material that has dated quite horribly.
This British act, represented here by two albums released in 1970 on the RCA label, is an exception, because whilst very much of its time, it delivered dramatic and innovative musical entertainment.
Fronted by the Goldring brothers, from whom the band's name is an (almost) anagram, Gnidrolog enjoyed some success on the touring scene, playing a potent brew that fused the tricky time signatures of Gentle Giant to the eerie, industrial might of Van Der Graaf Generator, whilst sharing similarly eclectic instrumentation and a fondness for interlacing a very British pastoral acoustic with roaring rock outbursts.
'In Spite Of Harry's Toenail' is the more demanding fare; its successor takes a more accessible and commercial line. That's not say that these albums are even remotely AOR let alone MOR. Far from it, both offer sufficient stylish originality to reward with replaying, making this good value compilation well worth the investigation.
****
Review by Peter Muir