GLITTERTIND 'Evige Asatro' (Karmageddon Media) (2004)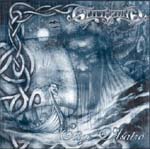 Glittertind is the solo project of a nineteen-year old musician named Torbjørn Sandvik. Torbjørn comes from Norway, the Northern European country whose great history and tradition attracts not only the interest of its inhabitants, but also of many different people around the world.
The history of this band started in 2001, when young Torbjørn decide to honour the history of his forefathers by creating an album with strong references to historical facts that influenced and shaped Norwegian history. The first promos were used as a tool to promote Torbjørn's ideas and make a name for the band in the underground scene of his country. Even though the mixture of Punk music with Metal and Folk elements is not the most usual combination, the reaction of the underground metal fans was more than satisfactory, and made Torbjørn realise that the next logical step for him would be to approach a label that would offer him a contract. It seems that Karmageddon Media was more daring than all the other well-known record labels, and after the release of Glittertind's third demo, they gave the green light to Torbjørn to begin the preparations for the release of his debut album "Evige Asatro".
I am a big supporter of the idea of mixing Folk elements with Metal music. I believe that the fact that I come from Greece, makes me more than capable of understanding the needs of an artist with a strong cultural background to express their admiration for historical events and elements that helped shape their personality. When I read Karmageddon Media's, I have to admit that I had prepared myself for something similar to the music of bands like Waylander, Cruachan and Primordial. Well, it seems that young Torbjørn has managed to satisfy my expectations up to a certain extent, but better let me explain myself.
I am not a fan of Punk music (well, actually I don't like Punk music at all), so the idea of adding many of these elements to compositions like "Se Norges Blomsterdal" and "Norges Skaal" did not work for the band's interest as far as I'm concerned. The feeling that derived from these compositions was more suitable for the new Onkel Tom album (Tom Angelripper's personal efforts that consist of Metal covers of classic German beer songs) rather than a Folk Metal band. What added to my disappointment was Torbjørn's voice. It is pretty obvious that the young artist does not yet have the experience that will allow him to use his voice as an extra instrument – one thing that every Folk-influenced band should possess.
On the other hand, there are many interesting things about this release that need to be mentioned here. All the songs of the album, except "Norges Skaal" were recorded between 2000 and 2001, right before the Karmageddon Media contract. That means that almost all the compositions of the album were written by a sixteen year old kid, something that needs to be taken under serious consideration. It is true that there are plenty of Punk elements in this album, but there are also Epic compositions like the amazing "En Stille Morgen", where young Torbjørn managed to create the exact atmosphere that's suited to a decent Folk/Metal album. This is a song that will remind you of the days when Quorthon from Bathory (R.I.P.) released one magnificent Epic release after the other ("Hammerheart", "Twilight of the Gods"). The decision to use the Norwegian language for the creation of the lyrics was quite wise and added to the general feeling, even though it deprived me from understanding the lyrical context of the songs. Other songs that I found to my liking are the also Epic-orientated compositions "Olav Digre", "Karl Den Store" and "Om Kvelden".
'Evige Asatro' is not the album that will manage to make you a fan of this specific style of music, and by no means is the most representative album of this genre –it is a product of a very inspired young musician that will hopefully manage to impress us more with his future releases. I, for one, wish him all the best, and expect to hear more from him in the near future.
***½
Review by John Stefanis