GLENN TIPTON Baptism Of Fire Rhino (2006)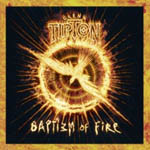 Judas Priest guitarist Glenn Tipton originally released this album back in 1997 and it now comes out re-mastered with two bonus tracks. I bought this album when it first came out and was not overly impressed.
It's not the music - those trademark Priest guitar riffs are in abundance on the songs - but the fact that although Tipton sings to his best ability it really needs a big voiced metal vocalist.
These songs would sound superb with say Rob Halford or Jorn Lande belting them out. That said, there are some gems on here like the Stones cover 'Paint It Black' - very metal and 'Hard Core' which is a riff feast.
Of the two bonus tracks 'New Breed' is nothing memorable but the epic 'Himalaya' stands up to repeated plays and is a worthy addition.
The music is of course first class as it features the talents of the late, great Cozy Powell and Deep Purple keyboard wizard Don Airey amongst others.
Definitely one for the Judas Priest fan but otherwise try and listen to a few tracks first.
***
Review by Jason Ritchie
Related>>Interview
***** Out of this world | **** Pretty damn fine |
*** OK, approach with caution unless you are a fan |
** Instant bargain bin fodder | * Ugly. Just ugly
get ready to rock is a division of hotdigitsnewmedia group
Why should I buy this CD?
Judas Priest fans and those who like riff based classic metal.
Burn baby burn
Paint It Black
Hard Core
Himalaya