Just witnessed your best live gig?..send us a review!
VIXEN/GIRLSCHOOL/DANTE FOX
Mean Fiddler, London June 3 2005
A girl's night out, and what a popular one too, the crowd not too thin considering Zak Wylde was playing next door.
Opener Dante Fox are a young five piece with a female vocalist. Despite her slim build she had one hell of a voice. With twin guitars, the music was akin to Heart but a lot heavier, and more enjoyable too.
The band didn't really have much room to shine in, but with a little polishing they could be something special.
Highlight of the night had to be Girlschool. Kicking off with Dufort's drums, they ripped into Let's Go and the crowd loved it.
What made Girlschool a pleasure was the fact they were clearly loving it. Genuine smiles all round and no posing or posturing. Proper British heavy metal of the finest all girl variety. New guitarist Jackie Chambers and the returning (original) bassist Enid Williams seamlessly part of the family. Kim McAuliffe shared vocals with Enid, to great effect.
Tracks from the excellent new album Believe (Never Says Never and New Beginning) fitted in well with classics including Hit & Run and the brilliant Screaming Blue Murder, Race With The Devil and Emergency. A two song encore left many wanting more.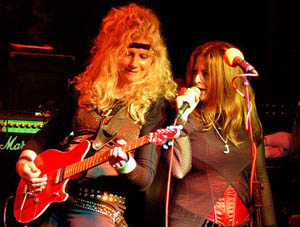 VIXEN - Photograph © 2005 Martin Kessel
While Girlschool exhibited energy and honesty, Vixen were another matter completely. This LA give piece had a great sound, which was polished and professional, but lacked any real excitement or interest.
With a guy backing up switching guitar and keyboards, Vixen's sound mixed hard AOR and late 80s big hair metal. Technical proficiency (some neat solos) was dampened by a samey sweetness and sludge to the sound. New tracks like Live'n'Learn proved that, like Girlschool, they're still going strong, abeit with their own and, on tonight's performance, disappointing brand of metal.
Review: Joe Geesin