Solo outing from Queensryche vocalist...
GEOFF TATE Geoff Tate (Silverline DVD-A) (2003)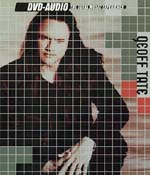 There are many reasons why I consider myself lucky to be a Queensryche fan. The main reason is the band's vocalist - Geoff Tate. He is without any doubt one of the best vocalists in Rock Music, the second best after Freddie Mercury as far as I'm concerned!
But what makes a really good musician and more specifically, why is Geoff far better than any other frontman of our beloved music? A musician is the person who successfully manages to transform his feelings to music - this is more of a gift rather than anything else and when God decided to grant Geoff with that gift, he was really generous! Geoff has been a performer for the last twenty years, and we all know that it takes a lot of commitment and devotion in order to achieve such a thing - twenty years of constantly pushing your creativity to the very limit, trying to present fresh ideas to your audience.
Twenty years of personal sacrifices with actual success hitting your door only for a short period of time (Operation Mindcrime / Empire), even though you deserved so much more... One thing that you can tell about Geoff Tate (and Queensryche in general) is that he hates repeating himself. Well, believe it or not, Geoff decided to make an album of his own - totally out of Queensryche's influence - so as to present something totally new to his audience.
He recruited musicians who had little to do with rock music (more Latin and jazz influenced) and made this wonderful album simply called...Geoff Tate! I was really happy to see that instead of receiving a normal CD I received a DVD Audio.
What's so different about it? First of all it has a 5.1 surround sound! Then you have many extras such as the video "On the road, off the TV", a small documentary where "His Majesty" explains what was the idea behind a solo album, the criteria he used in order to find the proper musicians etc. You will also enjoy a photo gallery, the band's bios and the lyrics of the album. It was also nice to see that, this time, Silverline decided to give you the option of having the lyrics of the song you chose to listen to on screen - something that was missing from Queensryche's "Tribe" DVD audio.
As far as music is concerned...this is another brilliant album! The involvement of all those great musicians (Jeff Carrell/Guitar, Howard Chilcott/all Synths, Evan Schiller/Riff Guitar/Drums and Chris Fox/Electric Bass), did bring a breath of fresh air to Geoff's ideas so I think that the experiment was successful. There are eleven brilliant songs in this album but since you always have to choose at least two songs as your favourites, I would say (with great difficulty) that "Helpless" and "In Other Words" are the ones. Geoff once more performed miracles lyrics wise.
He reminds me of the great Greek author Nikos Kazantzakis - one of his words could create a thousand images and the same applies to Tate's lyrics! If I could live a thousand lives I would spend them all listening to the music of this living legend, and Geoff - if you are listening out there...please don't you ever stop bringing tears to my eyes and shivers to my body with your music... if you do it will definitely kill me!
****
Review by John Stefanis
© 2003 All rights reserved.