GEOFF DOWNES 'Shadows and Reflections' (BP355CD)(2003)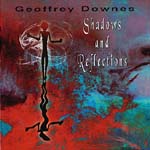 Geoff Downes is the keyboard maestro and founder of melodic rockers Asia and in another incarnation he partnered Trevor Horn in The Buggles which led directly to that pair's involvement with late-80s Yes.
Downes is an extremely accomplished arranger and those-in-the-know will already be familiar with his solo excursions. The earlier 'Light Program' (1986) and 'World Service' (1999) explored various sound textures and musical flavours. 'Shadows and Reflections' is more ambient. If you like Tangerine Dream you'll like this, although Downes' work is always lifted by his natural feeling for both rhythm and the grandiose hookline. Asia fans will probably want this, especially if you enjoyed Geoff's solo spot on recent tours.
Reflections [edit]
© 2003 Geoff Downes/Blueprint. All rights reserved.