GENESIS 'The Platinum Collection'(EMI GENCDX9) (2004)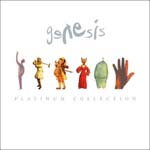 We had Turn It On Again - The Hits in 1999. We had the seven CD boxed Archives sets in 2001 offering a wealth of previously unreleased material. So do we really need another Genesis collection?
Well, the short answer is 'yes'. This is a marvellous 3 CD jam-packed 4 hour, 40 track trawl through the Genesis catalogue from Trespass (1970) to Calling All Stations (1997). And together with a companion DVD release Genesis - The Video Show, it makes the ideal present for any self respecting prog rocker.
Culled from 14 albums and the Paperlate EP this is a really comprehensive retrospective. There's nothing new (apart from many of the tracks being remixed) so this is really for those who have only limited Genesis material in their CD racks.
And what a glorious legacy it is. Each disc covers a different era. Disc 3 from Trespass to The Lamb Lies Down on Broadway(1974), Disc 2 from A Trick Of The Tail (1976) to Abacab (1981), and Disc 1 from the Paperlate EP (1982) to Calling All Stations.
Coming at these in reverse order, Disc 3 is quite magnificent. And OK, we could all probably suggest the odd track or two which could have been included (Watcher Of The Skies?) but who can argue with a track listing that includes The Knife, Musical Box, Supper's Ready, Firth Of Fourth, and The Carpet Crawlers to name but a handful. Perfect powerful prog.
Disc 2 enters the post Gabriel years with Trick Of A Tale and works through Wind and Wuthering, And Then There Were Three..., Duke, and Abacab by which time Phil Collins had become every housewife's crooner of choice with his parallel solo career.
Another fine disc including Follow You Follow Me, Misunderstanding, Duchess, Behind The Lines, Turn It On Again, and Abacab.
Disc 3 enters the final chapter and the band's most commercial phase which saw them conquer the globe as stadium fervour gripped the planet. And it's here we find the most overlap with previous collections - 11 of the tracks featured on the The Hits.
But what we do get extra is three tracks from their eponymous album - Home By The Sea, Second Home By The Sea and Illegal Alien, plus Paperlate and Calling All Stations. And as for the hits, they're all there as well.
So what we get is a really comprehensive picture of the Genesis career with an average of three tracks taken off each album. It serves as an excellent reminder that Genesis were a wonderful prog rock band who happened to find commercial success as well.
If you don't have much Genesis in your collection, then this is for you. Accept no substitute.
*****
Review by Pete Whalley
Related>> DVD review