GENE VINCENT 'White Lightning' (HUX042)(2003)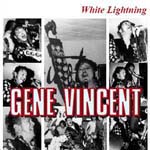 If Ian Dury's 'Sweet Gene Vincent' immortalized this legendary singer, the unknowing would do well to check out this reissue of his 1970 album for the prog Dandelion label, now bolstered with radio session tracks recorded just days before his untimely death in October 1971 aged just 36.
Vincent was something of a survivor and the very stuff of rock and roll legend, plagued with a leg injury sustained in a motorcycle crash and escaping the Reaper when in the car that killed Eddie Cochran. His injury and his alcoholism was to subsequently plague his later career.
Too raunchy and rocky for his native Americans, Vincent came to the UK in the late fifties to be chapperoned by Six Five Special impresario, Jack Good who spotted his raw charisma and leather jacket. This 1970 album, 'I'm Back And I'm Proud', marked something of a comeback, and remastered here sounds compelling: a dozen tracks of mostly raw rock and roll and some countrified ballads, with the writer of 'Born To Be Wild', Mars Bonfire, on rhythm guitar and Linda Ronstadt on backing vocals.
Vincent's short career and lack of major critical acclaim is tinged with poignancy, 'I'm Back And I'm Proud' is a worthy testimony to a flawed and frustrated genius.
***
Review by David Randall
Sexy Ways
© 2003 Hux Records Ltd. All rights reserved.