GENE SIMMONS 'Asshole'
(Simmons Records/Sanctuary SANCD245)(2004)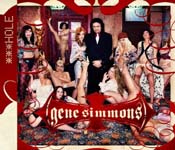 Gene Simmons of Kiss is hardly what you'd call a shy and retiring man, so it would be hard to believe that anyone won't be aware of this album by the end of the year. It's drawn from over a long period of time (the opener 'Sweet & Dirty Love' dates from 1977) and includes one very bizarre cover! Joining Gene Simmons are ex-Kiss colleagues guitarist Bruce Kulick and drummer Eric Singer plus a co-written song with Bob Dylan, even his family get in on the act!
Musically it's a mixed bag of treats, from the wonderful slide guitar on 'Sweet & Dirty Love' - a rollicking rocker to get the album started. Then we have a curveball in the shape of a cover of 'Firestarter' (originally done by the Prodigy) - it sounds as though it's a recipe for disaster but it works and Gene Simmons is one of the few people who could pull this one off. 'Weapons of Mass Destruction' has a massive bass line throughout and is the most Kiss like tune on here.
The title track is a modern pop rocker, destined for radio and a great lyric in 'Like a bucket full of pee'. Possibly the best tune on here along with the opener. A few tracks fall into mediocrity, like 'Black Tongue' (well he had to mention his famous appendage somewhere!) and 'If I Had A Gun'. Gene Simmons even tackles the big musical number with 'I Dream A Thousand Dreams' with strings and a very gentle vocal from Gene Simmons. Not everyone will like it but I am a fan.
It is a mixed album but then this sort of album tends to stand the test of time. Kiss fans will enjoy it but they need to be open minded and other music fans will find much to enjoy on here. It's certainly an album of songs that couldn't be done under the Kiss banner and it's more refreshing because of that.
Related>> 10 Questions (Bruce Kulick)
****
Review by Jason Ritchie