G/Z/R Ohmwork (Sanctuary) (2005)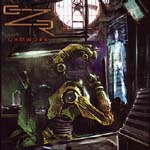 While Black Sabbath bassist and songwriter, Geezer Butler, grew bored waiting to pen material for the next (?) Sabbath album, he has found an outlet for talents on this, the third album under the G/Z/R guise.
I was a big fan of the debut G/Z/R album, some ten years ago, which featured the mighty voice, of Fear Factory's, Burton C. Bell. I some how missed the follow up, so I arrived at 'Ohmwork', with more than the normal sense of anticipation.
'Ohmwork', is essentially a traditional heavy metal album, with no visible Sabbath influences, Geezer has penned strong set of songs with his usual vigour and lyrics that pack a punch and leave not much up to the imagination of the subject and content.
Butler is joined ably by singer, Clark Brown, who has a fine set of lungs, that propel Geezers biting lyrics and carry his grandiose vocal melodies. Spontaneity is the name of the game here, recorded quickly in just 10 days, which by modern standards, is about as fast as it gets... Some bands spend that time just get the right guitar sound or setting up drum mics!
10 songs that will leave even the toughest metalhead smiling, while not quite on par with Black Sabbath's best output, then what is? None the less, a solid slab of metal, from one of the genre's legends.
****
Review by Graham Boyle