GARY PUCKETT & THE UNION GAP
'Young Girl/Incredible'
(Gott GOTTCD001)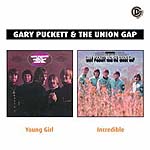 Gary Puckett was another American superstar of the sixties who was a huge smash in the States but who is barely recognised in the UK except for his twice over hit - Young Girl which charted here in 1968, and again in 1974.
And Gott Discs have come up with a sumptuous package for any self-respecting Puckett fan. His first hit Stateside was a 1968 cover of Jimmy Payneís Woman Woman, which hit US top five. And before it dropped out of the charts 5 months later an album of cover versions had been released to capitalise.
But the first Ďproperí album was released 3 months later - featuring Young Girlí the bandís signature tune. Here we get that album in full, the follow up album Incredible (featuring far more self penned material) and, as a bonus, the first single Woman Woman.
If you can remember Young Girl - a typical up tempo 60s pop ballad- then youíve got a pretty good measure of what this package sounds like. Typical sixties pop, mostly ballads, but including covers of the Beatlesí Lady Madonna and Dylanís The Mighty Quinn.
It has been nicely remastered and packaged and if the 60ís pop is your bag, then you may well want to investigate this.