Where less wants Moore...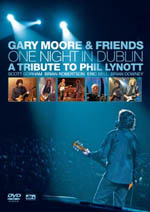 Few people deserve such respect as the late great Thin Lizzy frontman, and this DVD does a damn good job. An all star lineup, with bassist Jonathan Noyce joining drummer Brian Downey and guitarists Gary Moore, Brian Robertson, Scott Gorham and Eric Bell.
Gary Moore immediately takes the lead and the show by kicking off with his own 'Walking By Myself'. Not Lizzy I know but a cracking song and a great way to get the large and enthusiastic crowd going.
He then sings 'Jailbreak' well. 'Don't Believe A Word' follows, slow and atmospheric; Moore's guitar as bluesy and emotional as ever. The man's an absolute genius.
'Emerald' follows as more band members appear. Robertson is unmistakeable. Brilliant too.
Enter Scott Gorham to duel with Moore for the excellent (and oft overlooked) 'Black Rose'
'Cowboy Song' and 'The Boys Are Back In Town' follow in great fashion, and Eric Bell comes on for 'Whiskey In The Jar'; Moore sings and plays a good rhythm guitar while Bell takes the lead.
The set finishes with 'Old Town / Parisienne Walkways' – and Moore makes his guitar sing once more.
The concert does seem short at 75 mins - when I saw Gorham's Thin Lizzy last year they played for quite a bit longer, but the crowd don't have any complaints. The interviews on the package and a decent booklet make up for that.
One guitar genius playing the legacy of another: Thoroughly enjoyable.
*****
Review by Joe Geesin