GARY HUSBAND 'The Things I See - The Music of Allan Holdsworth' Angel Air SJPCD182 (2004)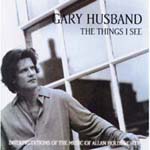 This 2001 album gets a quick reissue after some apparently good reviews. Only three years on and nothing new added.
Gary Husband found fame as the drummer of Level 42, as well as playing with guitarist Allan Holdsworth. Now as a pianist, here he re-explores many of Holdsworth's songs he originally played drums on.
Mixing folk and jazz and a touch classical, with drums occasionally interspersing the piano, it's an interesting mixture, but you have to be a real muso to appreciate it. To the casual listener it's slow, gentle and really doesn't do much or go anyway, although it may provoke emotions in some.
Music to relax to, or perhaps even fall asleep, but not because it's boring, although bland in places.
Some extensive sleevenotes do make interesting reading.
***½
Review by Joe Geesin


£12.99
The Sixteen Men Of Tain

© 2004 Angel Air Records. All rights reserved.