FU MANCHU 'Start The Machine' DRT Records (2004)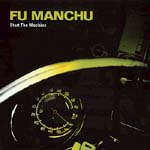 It's been 14 years since Fu Manchu first lurched out of their Chevy van for the Slap-A-Ham 7" with only guitarist Scott Hill having made it as far as their latest CD.
They first came to my attention courtesy of the 1997 Man's Ruin Records 10" cover of Blue Oyster Cult's 'Godzilla'. It was clear that Fu Manchu had something special to offerand I've kept track of them ever since.
This is their first album of new material in over 3 years, and also sees them signed to a new label, DRT Records. But I'm glad to say that time has not altered Fu Manchu, and that they still delight in classic stoner rock, replete with Blue cheer fuzz and Geezer Butler basslines. Granted, they excel at grooves rather than songs and Scott Hills vocals could only ever be described as competent, but when you dim the lights, turn up the bass and let the music riff, they are inspirational.
They're not hanging about other with the 12 tracks clocking in at about 35 minutes, which is an absolute delight to those of us weaned on vinyl. Opening track, "Written In Stone" is a hard driving statement of intent before the first highlight kicks in, the scuzzed up, bass driven, near punk "I Can't Hear You", a song built for audience participation, which should be a joy live.
Elsewhere, "Understand" has a riff built for banging ones head to and "Make Them Believe", my personal favourite, is a strange hybrid of Molly Hatchet and Black Sabbath which should fail horribly, but is an absolute joy. They continue in Sabbath mode by sneaking in a trippy, mellow instrumental, "Out to Sea".
Some have been lamenting the absence of former Kyuss drummer Brant Bjork, but having played their back catalogue in preparation for this, I'm not one of them. Scott Reeder may be less brutal, but does an excellent job. The one weak track here is the closing "I Wanna Be", which just fails to captivate, so you may want to programme your CD to finish after track 11.
Fu Manchu do what they do, and you'll either love it or hate it. However, with stoner retreating to the margins again since Queens of the Stone Age sold out ot MTV, it's great to hear a band flying their freak flag high.
****
Review by Stuart A Hamilton