FRIEND 'N FELLOW Crystal Ruf 1118 (2006)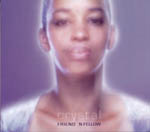 Constanze Friend is the voice and Professor Thomas Fellow is the guitarist in a compelling German duo who perfectly encapsulate their label Ruf records belief in 'the communicating power of music'.
I first came across this unique duo's reworking of Deep Purple's 'Black Night' as a vocal piece on the Ruf 10th Anniversary Sampler 2004. Each night the compilation was played at various gigs, someone would almost inevitably enquire about the track.
It comes as something of surprise then to learn that 'Crystal' is Friend 'n Fellow's seventh album and it's an absolute delight. Perched somewhat precariously between the acoustic blues, soul and jazz genres with virtually no concession to contemporary musical styles, 'Crystal' is a beautiful record that will probably only generate a bigger audience outside of the jazz world if radio programmers show a little more imagination than at present.
Of course tracks like gospel tinged 'Beauty Queen' might pick up some radio on the back of Constanze's Sade style of vocals, while tracks like 'Flyin' High' complete with some fine scat singing will probably sit comfortably in a Jazz FM play list.
It also comes as no surprise to learn that the duo have appeared with the likes of Al Jarreau and Keb Mo, but it would be a shame if the meticulous guitar playing and sonorous voice are lost to an altogether potentially greater audience.
Friend 'n Fellow's previous outing 'Covered' brought the duo's soulful acoustic style to bear on a mix of classic rock and pop songs, whereas this album explores the duo's own exhilarating song writing style.
On 'My Favourite Girl' for example, there's some really inspired interplay between guitar and voice as Thomas Fellow superbly weaves in and out between Constanze's vocal parts creating a mesmerising dynamic. The following 'Melting Point' with its stringed introduction acts as a perfect foil what has gone before opening into an uncompromising vocal piece, the tension of which is only broken by the following bluesy 'Red Balloon'.
Traditionally ambient music rarely used a voice as a front line instrument, but this is music full of ambience, full of haunting vocal swoops and unrelenting excellent guitar playing. No it's not a rock record but something far more precious and worthy of your undivided attention.
***
Review by Pete Feenstra
Crystal
© 2006 Ruf Records. All rights reserved.