FRESHFABRIK Finest Pure Mint (2006)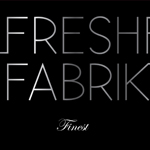 To be honest, the melodic metal scene is somewhat crowded but to their credit FreshFabrik give it a new twist. Against the usual heavy guitar onslaught, their synth and electro stylings mark them out as something different.
FreshFabrik will, after a couple of plays, sound warmly familiar. That's not to say they're not original, it's simply that this - their fourth album - is very accessible.
The opener 'Knights de la Mancha' sets the scene, this could be on a soundtrack to some eastern European spy flick with deft orchestration, electro funk and the requisite amount of guitar grunge.
'Life Is Passing By' has a dramatic riff and a real sense of purpose whilst 'This Time' is like a modern take on eighties Japan (The David Sylvian band not the country).
At other times, FreshFabrik can rock out with the best of them. Icons (Gold Can't Rust) and Druida have the metalcore riffs but a welcome melodic vocal. There's even a psychedelic guitar solo on the former whilst Druida has Dream Theater touches. 'Grace For Grace' is synth-driven and atmospheric and could be Talk Talk on steroids.
FreshFabrik are a Hungarian hard-rock band and producer Mr.Colson (Smashing Pumpkins, Skunk Anansie, Nirvana), has returned to their mixing desk during the sessions for 'Finest'.
Much of this album has widescreen touches that suggest FreshFabrik providing a soundtrack to the aforementioned Eastern spy thriller or perhaps a first-person shooter computer game.
This is an intriguing, well-produced album and - amongst the current crop of metal hero wannabes - FreshFabrik might just live up to the album's title.
****
Review by David Randall
---
| | |
| --- | --- |
| | Print this page in printer-friendly format |
| | Tell a friend about this page |
Knights de la Mancha
© 2006 Pure Mint. All rights reserved.