FREEDOM 'Through The Years'
(Angel Air SJPCD177) (2004)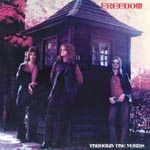 Angel Air have done us all a great service over the past few years. they are experts in identifying a lost gem, masters at refurbishing it, and the final product usually shines. Freedom is a good example. did anyone know about this band in their heyday? I think not. without this belated exposure, Freedom would inevitably have remained a footnote, if that.
This is gutsy rock-cum-rhythm and blues, of the sort that will suit anyone who remembers Stone The Crows and any number of early seventies funky rock outfits.
Freedom emerged out of the remnants of Procol Harum, chiefly known for their 'Whiter Shade Of Pale' monster hit. Drummer/vocalist Bobby Harrison and guitarist Ray Royer were the renegades, but Harrison soon replaced Royer with Roger Saunders. Typically, management problems didn't help the band and they folded after this 1972 release.
Angel Air are also masters at finding the missing link, many of their releases are incestuous with interchangeable musicians and a family tree would be interesting. Harrison for example went on to Snafu, whilst Saunders joined Medicine Head another band this label has championed.
This restoration comes hot on the heels of their second album 'Freedom At Last', another reissue well worth investigating especially as it never got a UK release at the time.
***
Review by David Randall


£12.99
Freestone
© 2004 Angel Air Records. All rights reserved.