FREE Chronicles - The Very Best Of
Universal 982 255-4 (2006)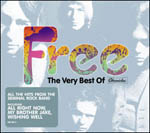 There is so much more to Free than 'All Right Now', as this compilation duly shows. A 4 piece that wanted to move away from their Chicago blues roots, they played a solid heavy and earthy blues rock. The names and history of Kossoff, Fraser, Rodgers and Kirke is well known, and if the music isnít it should be explored further; hereís the proof.
Material from the Tons Of Sobs album kicks things off, blues rhythms, heavy bass, searing guitar, hard rock thatís not fast, at times slow and moody without the plodding.
The classicís are here, including 'Iím A Mover', 'Fire And Water' and the single version of 'All Right Now' (the latter quite commercial when you consider some of their early material) - all stuff you canít go wrong with and tracks that should form an essential part of any rock record collection.
Disc 2 continues in the same vein, with 'The Stealer', a live take on 'Crossroads' and the original (and much covered) 'Wishing Well'.
Hits, classics, the odd B-side and rarity, well annotated too.
****
Review by Joe Geesin