FREE Live At The BBC
Universal/Island 9840662 (2005/6)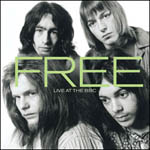 Just like their musical contemporaries Cream, Free were one of the few bands to consider their bass player (Andy Fraser) as a front line player. The fact was that Free were the truly sum of their individual parts, with each member contributing fully to a formidable musical intensity that leant heavily on the use of dynamics and building up a groove.
As these BBC sessions show, the band were sometimes positively languid, almost a loose musical aggregation that was spontaneous enough for any individual to step forward at any time. Above all, this double cd set traces a fast maturing song writing ability allied with a developing stage confidence. Paul Rodgers in particular grows in authority and showing himself to be capable to some real emotive phrasing.
The opening two tracks from November '68 recall the band's blues roots and are heavily reminiscent of the Blue Horizon period Fleetwood Mac and Chicken Shack days. 4 months on, Free took their first steps towards their new muscular Blues -Rock style with 'I'm A Mover', complete with Andy Fraser's signature bass lines and Paul Kossoff's steely riffs. But as if to prove they were anything but predictable, the following introspective 'Over The Green Hills' finds a musical strand that Thom York and Radiohead were to pursue years later.
And on those occasions such as on 'Trouble on Double Time' when the material doesn't quite work, the excellent playing rescues the piece. By the time of the June 1970 versions 'All Right Now', 'Fire & Water' and the rock ballad 'Be My Friend' - a blueprint for Lynyrd Skynyrd's later anthems - all raucously reprised a month later for Peel, the band were at the top of their game.
Disc two concentrates on the 1970 John Peel sessions and is a tour de force for Paul Rodgers. All the big hitters are there but it's the Crosby Stills & Nash influenced bass and vocal piece 'Free Me' and the soulful Otis Redding style 'Don't Say You Love Me' that show band's willingness to work on their songs.
But that was the essence of Free, much of their material may have been full of slow tempo's, occasionally bordering on the ponderous, and sometimes seemingly over deliberate, but there was always something going on that would take the music in a different direction. 'Free Live at the BBC' captures all the nuances of a band that still continues to influence bands of today.
****
Review by Pete Feenstra