FREDDIE KING Are You Ready For Freddie?
Fuel 202 061 394 2 (2006)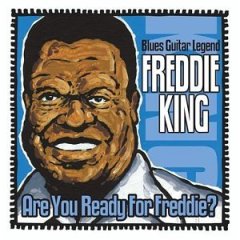 There's probably no better time than a thirtieth anniversary on which to unleash a previously unreleased 12 track Freddie King live album. Culled from two shows recorded in Germany and Texas in 74 and 76 respectively, 'Are You Ready For Freddie' is Freddie King captured on some desk tapes, loud, proud and demonstrating himself to be integral part of the burgeoning blues rock scene.
30 years on, both the gritty songs and fiery playing style are still to be to be found in virtually every rock blues outfit repertoire be it the favourite guitar instrumental 'Hideaway' or Freddie's take on Don Nix's 'Going Down'. That said, as this retrospectively conjoined live set suggests, Freddie became almost trapped by what he was supposed to be in the eyes of promoters and rock fans alike.
Thankfully his brief dalliance with funk is not included here and for the most part what you get is fiery guitarist who acted as an important conduit between blues and rock, with only the closing 50's soul ballad suggesting anything other than what he is best remembered for.
On both of his opening brace of numbers Freddie builds up the tension with a warm up flurry of notes, initially settling into his signature slow blues 'Have You Ever Loved A Woman', a lovely languid blues style that he repeats on Jimmy Rodgers' That's Alright'. He then ups the ante on a jammed up and ultimately speeded up version of 'Mojo Boogie', suggesting that as ever Freddie was paying attention to the show as well as the music.
In effect this recording come from Freddie's second career phase when he was to be found in the early 70's playing in front of the likes of Steve Miller at the Fillmore East to crowds brought up on jamming guitar heroes, and of course that suited Freddie down to the ground.
As Bill Dahl's excellent liner notes mention he had signed with Leon Russell's Shelter records in 1971 and was happy jamming his way though a mix of his own back catalogue and blues standards, giving his young audience exactly what they wanted. On Jimmy Reed's 'Signals of Love' he employs an OTT intro before launching into a raucous crowd pleasing outing full of impassioned vocals and some rasping guitar lines, which transforming itself into full blooded energetic 'TV Mama'.
Even some occasional unwelcome feedback can't dampen the energy levels. The extended call and response section at the end of the song suggests Freddie had the crowd in the palm of his hand.
The recordings occasionally reflect their mixing desk origins as on both 'Key to the Highway' and 'Hideaway' the keyboards are too high in the mix but Freddie remains totally unconcerned as he already has the audience clapping along with his long fiery guitar lines.
My personal favourite remains 'Woman Across he Water' one of the few blues songs with a tempo change that works as it emphasises the lyrical content. In the event the band seem to stumble mid song, causing Freddie to usher in a swift outro, but he sings passionately enough to carry the day.
Die-hard Freddie King fans might choose to stick with their early recordings, but there is enough on stage spark in both concerts to make a purchase more than worthwhile.
***
Review by Pete Feenstra