fREAK-1-C 'Swimming With The Big Fish '
(freakcd001) (2004)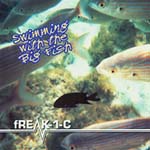 Freak-1-C, a six-piece band from West London, came together a few years ago jamming at The Fox and Pheasant in West Drayton where they still regularly appear. Like many upcoming bands they are plying their wares around the Internet and spreading the word. On the strength of this, their first CD, the blend of sub-garage/funky rock will win some new converts.
There is nothing here that's actualy too original, but it's all very well played and they obviously seem to be enjoying themselves which can't be a bad thing. Ian Husbands' vocals are distinctive but with the addition of Stephanie Lamoureux on backing vocals an interesting twist is added to the mix.
Elsewhere it is fairly predictable, well recorded, but confident. The band's true voice is perhaps best heard on tracks like 'Curse Of Common Man', 'Machine' and the reflective 'Why?'. All bode well for the future. With a top-notch producer on board to sprinkle statutory regulation faery dust, who knows what might develop? fREAK-1-C could indeed be swimming with bigger fish.
Band website
***
Review by David Randall
Curse Of Common Man
© 2004 fREAK-1-C. All rights reserved.