FORTY DEUCE Nothing To Lose Frontiers (2005)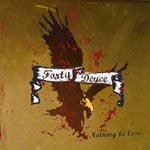 I have to say, hand on heart I was shocked that this album was this as good as it is. I have to admit I have never been overly impressed with Kotzen's output. I thought his time with Poison produced rubbish and his time with Mr Big was missing something as well.
Course, the irony is that Kotzen has a far better voice than Bret Michaels could ever manage. Kotzen has always been known as a shredder and never much as a singer and songwriter. Well that should change with this band. Fron the opener 'Oh My God (I Fucked Up Again)' to the tail-end title track this band really kicks some major butt.
Straight-ahead hard rock with none of the pretentious bollocks that pervades much of the genre these days. This lot could give Velvet Revolver a run for their money and win. This is the hard rock that Kotzen had in him. Thank God he let the bloody thing out. His backing band of Taka (from Osaka), Ari and Thr3e fill out the impressive picture. This is certainly one of the biggest surprises of the year. Now let's just hope I get to see these guys live.
*****
Review by Marty Dodge