FLIPRON Biscuits For Cerberus (2006)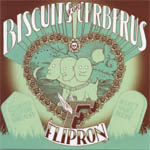 It's hard to know what to expect from an act who draw on musical influences as wide as 1920' Hawaiian Steel guitar rags, 30s Klezmer stomps, Chicago Blues, classic French Chanson, laid-back Western Swing, old time Folk ballads, Bollywood torch songs and60's British pyschedelia as well as pop eccentrics such as Ray Davies, Syd Barrett, Alex Harvey, Ian Dury, and The Specials.
If you're a festival regular you may have well come across Fliptron - probably best described as a 'novelty' act. Here, on their second album - named after the multi headed guard dog of Hades, they use just about every musical device they can lay their hands on (alongside the usual guitar, bass, drums, and keyboards. Everything's thrown in - conventional instruments such as accordion, clarinet, lap steel, harmonica, mandolin, dobro, and the not so conventional - an egg slicer, and parts from a cuckoo clock.
And then you have the son titles - classics such as Mingers In Paradise, The man Who Was Eaten By A Pie and Bring Me The Head Of John The Baptist.
One to add to your shopping list? Well, let me say first that the album is magnificently played and recorded and despite expecting the worst there's some quality songs and playing here. Fliptron may be eccentric, but they're no mules fool. An experience, one suspect that is best enjoyed live and a CD that is probably enhanced by the experience
***½
Review by Pete Whalley
The Flat Pack Bride Of Possibilities
© 2006 Flipron. All rights reserved.