FIRST CHILD Souvenirs Onslow Records (2006)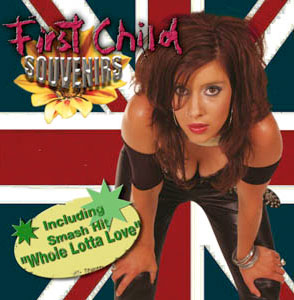 Move over Pat Benatar. Here comes Cat The Cat. From Germany, 'First Child' plombs just about every trick in the female chick rock handbook, from lyrics to looks, hair to hooks, but - ultimately - it rocks.
This debut album could have so easily been cheesy, but instead reveals a consistency in the songwriting (with Clark Philips and Mary Susan Applegate), production (Thomas Jauer), and the playing. More important, there's a catchy and insistent appeal to most of these tunes.
'Cold As Ice' (not the Foreigner song) shows Cat can ring the tempo changes when needed and it has the pre-requisite moody rock guitar solo to add to the excitement. And title track 'Souvenirs' even echoes compatriots The Scorpions with its whistle-along intro.
The only dip is Ricky Nelson's 'Lonesome Town' which is awful and detracts from an otherwise hard-rockin', no-nonsense approach.
Apparently our Cat plundered her parents rock collection at an early age and was naturally influenced by Zep, Purple and latterly Guns N Roses. The other cover on the album is a very accurate rendition of 'Whole Lotta Love'.
These influences are all present and correct. A bass player, she is like a more frenetic Suzi Quatro on steroids, with the power of Anastacia in the vocal delivery.
As a soundtrack to summer with the hood down, well worth investigating.
***½
Review by David Randall
Shakedown
© 2005 Onslow Records. All rights reserved.