FAT MATTRESS Magic Forest The Anthology
Castle CMQDD1334 (2006)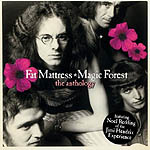 This 2CD set covers everything you need to know about Noel Redding's band, featuring both albums and a host of other rarities.
The band were formed in1968 by Redding as an outlet for his own songs and influences, yet only released two albums. A third album was recorded and never released, and that's included here too.
While always remembered as Jimi Hendrix's bassist, Redding produced some decent music here, mixing prog and psyche.
Opener 'All Night Drinker' is definitely on the prog side and features a flute, while 'I Don't Mind' has a more Beatles nod.
One of the many extras (amongst the singles, b-sides and radio tracks) is 'Black Sheep Of The Family', a track Quatermass and Rainbow fans will know well.
Not in the league of Hendrix but interesting, intriguing and enjoyable, and very well planned and packaged.
***½
Review by Joe Geesin