FARO 'Dawn Of Forever' MTM 068173 (2003)

Formed around Avalon vocalist Chitral 'Chity' Somapala, drummer Daniel Flores and guitarist Frank Rohles, along with bassist Peter Hahn. Opener 'Living In Extremes' barrels along at a fair old pace and the next song 'I Remember' is another prime time hard rocker. You want ballads? The band slow things right down on 'Coast To Coast' with subdued guitar solos and subtle keys. (Actually the keys on this album are very good but no-one is credited on the press release!) 'You're On The Run' is another punchy rocker and sounds like Prophet.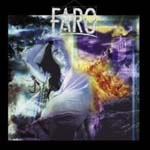 Not all the tracks gel, 'We Entertain Ya' is let down by its parping horn keys. 'Shot Down' enters the Bon Jovi territory of a Wild West style power ballad, slow start building nicely into a guitar solo finale. Other highlights include 'I Am What I Am' with the guitars cranked up coupled with a heavy backbeat and closer 'Long Way Home', another fine ballad complete with AOR harmony vocals.
Well played hard rock with Somapala proving a fine vocalist particularly on the rockier songs and guitarist Frank Rohles plays some fine solos throughout the album. If your bag is the sounds of Y&T, Dokken and Ten give this a go. Like many new bands in this field they could have sold lots of albums ten years or so ago. Hopefully mainstream radio will eventually break one of these hard rock bands - but I won't hold my breath!
***
Review by Jason Ritchie