FARMER BOYS 'The Other Side '
(Nuclear Blast 2004)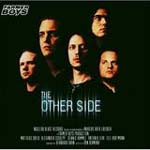 When I received this promo I didn't know what to expect. I've never heard of the band before so I tried to gather as much info as possible. My first idea was to check out their official site, an idea I soon abandoned after I realised that their site is in German. The second best option was the press release leaflet, which normally accompanies every new Nuclear Blast release. >From that I found out that the band is from Stuttgart and that their new album "The Other Side" is a combination of new millennium Metal and 80's British Pop!!! My first reactions were not that positive (Metal and Pop???) but supporting the idea that it's always better to judge with your own ears, I placed the promo on my CD player and closed my eyes...
I have to admit that I was extremely shocked by the result of my decision. The first seconds song of the album, "For the World to Sing", starts with the melodic voice of Matthias Sayer (Vocals) accompanied by a beautiful keyboard melody by Dennis Hummel. I was already starting to feel comfortable with what I was listening to until the 40th second when Alex Scholpp decided to blow my mind away with an amazing riff - the heaviness can only be compared with the riffs that James Hetfield wrote for Metallica's "Black Album". These three gentlemen, supported by a very impressive rhythm section which consists of Till Hartmann (Drums) and Toni Leva on the Bass guitar, created a very successful combination between Heavy and Melodic music (when I say melodic I mean more than just Pop).
The second track "Like Jesus Wept" (one of my favourites) is equally impressive and made me realise how good Depeche Mode would be if they had even heavier guitars. Somewhere round the middle of the song you get the impression that you are listening to Soundtrack music, but only for a while cause Alex will bring you back to reality with another heavy riff - excellent!
A very catchy riff will introduce you to "Once And For All", probably the most progressive song of the album. My favourite part of the album though starts from the fourth track "Where The Sun Never Shines". This is a song which will make you realise that humans were blessed by having the ability to express their emotions through music.
My favourite trilogy continues with a 57 second long intro which opens for the best song of the album, "In My Darkest Hour". I feel that, for one more time in my life, I am unable to put my feelings into words. This song made me close my eyes and allowed me a four minute escape from reality! So now I was half way through the album and couldn't wait to see what the restless Germans prepared for me.
"Stay Like This Forever" was created to become a hit with it's catchy tune and melodic band vocals, always accompanied by heavy low chorded guitars. You can also detect some Tool influences in this album, and "The Other Side" comes as a proof of that. I am trying to imagine how the band would sound live while performing a song like "What a Feeling Like" and they must sound good since they opened gigs for bands like Metallica, Marilyn Manson and Rammstein in the past!
"Trail Of Tears" sounds a lot like Paradise Lost from the "Host" era - not a bad song but I feel that it doesn't connect with the rest of them. "Home is Where The Stars Are" and "Get Crucified" are the last two tracks of the album with the latter being one of the most aggressive songs the band ever wrote - the perfect way to finish this forty minute trip to the world of emotions.
The Farmer Boys know exactly which direction they want to go. They created a self produced album which is destined to be loved by all the people who appreciate good music. Do not bother trying to find a label which describes them - all you have to do is close your eyes and let this German quintet introduce you to your best friend - yourself!
****
Review by John Stefanis