FAITH NO MORE The Platinum Collection Warner (2006)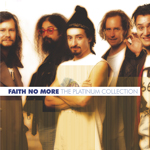 There are a few Faith No More collections out there now but this one is a definite starting pint for those new to the band or after a decent 'Best Of'.
With an opening trio of 'From Out Of Nowhere', 'Epic' and 'Falling To Pieces' you just can't go wrong! Hard rocking funk with a touch of metal in the guitar department.
The band were always off on musical tangents none more so then their easy listening version of the Commodores' hit 'Easy'. Sadly nothing from the pre-Hatton era as 'Introduce Yourself' would have been a worthy addition.
As I said earlier a CD to get if you are after a good introduction to the band and their more well known tunes. Excellent band and sadly missed…
****
Review by Jason Ritchie
***** Out of this world | **** Pretty damn fine |
*** OK, approach with caution unless you are a fan |
** Instant bargain bin fodder | * Ugly. Just ugly
get ready to rock is a division of hotdigitsnewmedia group