FAIR WARNING Frontiers FR CD 294 (2006;1992 reissue)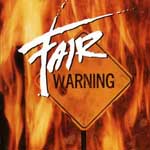 Through the dark days between grunge and the rise of the internet, one of the few bands to consistently keep the melodic hard rock flag flying were German band Fair Warning who released several albums in the 1990ís and were a big success in Japan, where audiences are far less swayed by fashion.
They recently reformed for a new album and tour, but Frontiers records have also re-released their debut from 1992. No prizes for originality with Fair Warning taking their cue from fellow countrymen the Scorpions and Bonfire, albeit with a slightly more commercial edge.
The songs and melodies are irresistible with Big backing vocals in support of singer Tommy Heart and some tasty guitar work. Longing for love and When Love Fails get the album off to a good start, while the likes of Crazy, The Heat of Emotion and Out on the Run have irresistible hooks, with keyboards which add colour to the sound without swamping the guitars.
Nearly all the songs were written by bassist Uwe Ritgen and the grandiose ballads The Call of the Heart, Long Gone and Take me up show the influence of the debut album from his old band Zeno.
It was great to rediscover this forgotten gem and I would recommend it as a good introduction to a fine band.
****
Review by Andy Nathan