FAIR WARNING Brother's Keeper
Frontiers (2006)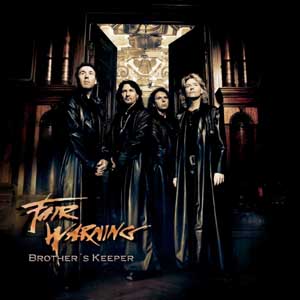 It's quite appropriate that the first track on Fair Warning's reunion album after nearly six years away should be called Don't Keep Me Waiting. For fans of the German ultra-melodic rockers have been waiting - but now the wait is over - and in such style.
Don't Keep Me Waiting is a call to arms that perfectly sets the tone for what's to follow, nearly 70 minutes of full on rock with a big sound, big melodies, big choruses and, of course, big ballads. Even the black leather coats the band sport on the cover are big.
Six years on and the German quartet - Tommy Heart on vocals, guitarist Helge Engelke, bassist Ule Ritgen and drummer CC Behrens - have returned with a superb comeback which ticks all the right boxes for melodic rock fans. For the most part it's the heavier side of Europe which comes to mind, mixed occasionally with a helping of Queen and Journey.
Don't Keep me Waiting has already scored a big success as a single in Japan, the band's greatest stronghold, but with European dates this year, including Firefest in October, Fair Warning are serving notice that they've got the rest of the world in their sights.
Generation Jedi is a song built for world domination, despite its rather strange semi-rap part way through (I'm not a great fan for rap in rock songs, it always sounds awkward and out of place to me), while Rainbow Eyes, Push Me On and the European bonus track Still I Believe have utterly irresistible choruses which lodge in your brain in seconds.
Of the ballads, All Of My Love sounds undoubtedly by a European rather than an American band, gentle and anthemic all at once, while Wasted Time has something of Poison's quieter moments about it.
And if you really are left in any doubt about Fair Warning's nationality, hang around for the "hidden track" after the last song All I Wanna Do . . . it's more German than measles.
But then, so are Fair Warning - very catchy!
****
Review by Ian Harvey