EVERGREY 'Live - A Night To Remember' Inside Out (2005)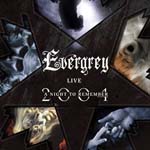 Evergrey are one of the many great bands I've discovered whilst reviewing for Get Ready To Rock! If you enjoy crunching guitar riffs, swathes of keyboards and a vocalist with a range that swings from light balladry to bruising metal, then Evergrey are a band you must check out. This is a double CD with a good live sound throughout, allowing all the vocals and instruments equal billing in the mix.
Highlights? On disc one it has to be the crunching anthem of 'End Of Your Days' and 'Rulers Of The Mind' - think Queensryche but with a more metallic edge. Disc two has the awesome 'Recreation Day' and 'Touch Of Blessing' that switches from light to dark moments with gusto. Vocalist Tom Englund is the star of the band due to his powerful vocal range and he really excels in the quieter passages - he lulls you in and then hits you with a mighty roar!
Evergrey are definitely a band on the up and their music can appeal to a broad spectrum from prog metal fans to classic metal fans (they will enjoy the riffing and soloing of this band in particular). A live album worthy of place in any metal fans' collection.
****
Review by Jason Ritchie
10 Questions
Related>> Album review