EROL SORA 'Demented Honour' Duration (2005)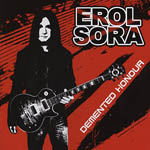 Erol Sora is a fine guitarist who has seemingly spent the majority of his career as a session guitarist and more recently as a sideman to former Heep vocalist John Lawton.
Apparently this is an album that has been in the making for some time and Erol certainly impresses with his AOR vocal style and powerful guitar breaks. However, this album does the beg the question why not come up with something slightly different from the people you have been playing with?
For while 'Demented Honour' is a well crafted CD full of melodic hard rock songs, some crunching guitar solo's and upper register vocals, there's not enough originality here to separate it from a hundred other such releases.
There are some notable highlights such as the Southern Rock sounding 'Along The Way', the spirited rocking of 'Broken Dream', and the closing acoustic based ballad 'Rain'. And while fans of Journey, Uriah Heep, and indeed John Lawton will enjoy much of this album, there's too much formulaic material here to make this a better than 'good effort' album.
***
Review by Pete Feenstra

© 2005 Erol Sora. All rights reserved.