ERJA LYYTINEN Dreamland Blues RUF1114 (2006)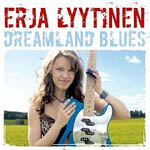 'Dreamland Blues' continues Ruf records commitment to investing in the leading female blues practitioners of our age. Having enjoyed deserved success with the likes of Sue Foley, Ana Popovic, and Candye Kayne the label now turns its attention to furthering the career of Finnish guitarist Erja Lyytinen.
Erja initially made her name as a slide guitarist of considerable repute in the company of Aynsley Lister and Ian Parker as an integral part of 2006's Blues Caravan. With the release of 'Dreamland Blues' she steps out in her own right with a debut album that will undoubtedly please existing fans and ultimately convert a few more.
Produced by Ian Parker the album seems to gain confidence as it progresses, shifting from the opening slide led instrumental of 'Skinny Girl' and the tentative shuffle of 'Why A Woman Plays The Blues', to the album's natural peak on the closing three tracks.
In between there's a variable mix of mid tempo blues and delicate funky workouts of which the gentle ballad 'Best For You' finds Erja at her most vocally confident. On 'Mississippi Callin' her sumptuous slide playing is matched by a measured vocal style that nicely teases out the dynamic of the piece.
Erja has been called the 'Bonnie Rait of Finland' but rather than viewing this as a lazy way to describe a nascent talent, it is in part true, as evidenced by a stylistic tip of the hat to Bonnie on 'I Need Love'. It is the last quarter of this album that holds the key as to why Erja might just slip into the vanguard of contemporary blues. While her slide playing is formidable throughout, on the plaintive hymn like quality of 'Join Everyone' she concentrates on her vocals to great effect, before following that with the sparse but beautifully played guitar piece 'Voyagers Rest' The closing duet with drummer Kinney Kimborough nicely sets the seal on an up and coming talent and a confident debut album.
***
Review by Pete Feenstra
Related>> Album review