ERIKA 'Cold Winter Night '
(MTM Records 2003)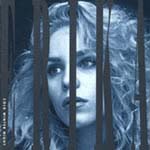 The name Erika should be familiar to every Pop/Hard Rock fan. The former wife of Yngwie J Malmsteen has recorded many top selling albums during her nine-year career and has also performed in front of more than 10.000 people. How did she achieve that? I guess that a bit of luck and plenty of connections within the rising Swedish Hard Rock scene was the key to success.
Her first major hit "Together We're Lost" came as a result of her collaboration with Bobby Ljunggren (Lionheart Records) and producer Hakan Almqvist. The song went straight to number one overnight, quite an amazing task for a new artist. The trio knew that they were heading towards the right direction, and composed ten more songs which were destined to consist Erika's debut album "Cold Winter Night".
MTM Records decided to re-release Erika's debut album thirteen years after it's original release, with the addition of "Super Sonic City"(a song never recorded or performed before) and two different versions of "Together We're Lost" which were never before released in Europe.
Music-wise, "Cold Winter Night" is an album full of "smart" melodies and catchy tunes. You can feel it from the very first minute that this album was destined to become a hit. Forget about great technical skills on behalf of the musicians, forget about music innovations. You don't have to be in a specific mood in order to enjoy songs like "Together We're Lost", "Heavenly" and "Love In Vain"(my personal favourite), and I'm pretty sure that this was the trio's intention from the very beginning.
"Cold Winter Night" will be released, completely remastered, in a jewel case on 12 January 2004.
An album worth listening to while driving or with the company of good friends and plenty of wine!
***
Review by John Stefanis