ERIC MANTEL The Unstruck Melody
Holistic Music Entertainment HME0888 (2006)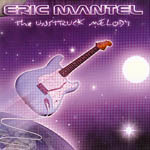 Chicago guitar legend Eric Mantel, well that's what it says in the blurb. OK, I am ignorant. I have never heard of Eric Mantel, he has evidently kept his guitar light under a bushel for thirty years. No, he's not Harvey Mandel and he ain't Eric Johnson. But, musically, he could pass for both.
The upbeat opener 'Tribute' is likeable but it's nothing special and it sets the tone for what follows: high quality but hardly original. The vocal 'The Simple Things' conjures up the jazzy notes of Eric Johnson or Robben Ford although it contains the mandatory (and well played) rock-out coda.
'The Real You' rattles along but it's like something from one of Jeff Beck's mid-seventies funky fusion albums crossed with Frampton's vocoder. Yes, it's back!
'Tai-Chi' is a terrific instrumental groove and one of the standouts, and would have sounded well on Jazz FM about fifteen years ago, alongside Larry Carlton. Switching to synth-guitar, 'Under A Different Light' is atmospheric and builds gently whilst 'Exit 10' is like a million and one TV theme tunes.
'There Are No Words' is another class jazz-fusion tune that really gets going when Mantel shifts to distortion guitar and 'Wings Of Fire' plys the funky rock route again.
Mantel shows off a diverse range of guitar talents and especially on the appealing acoustic 'Affectionately Yours'. In his favour, Mantel never sacrifices the songs to sheer technique but I would have preferred a more balanced offering with some solo keyboards and sax. That, and ditch the vocals.
When fusion guitarists do vocals they frequently balls up, and there's no change here. It's not that Eric sings badly, it's just that 'Merry Go Round', 'Why So Lonely' and 'Gloria' are all a case of the bland leading the bland. The only redeemer is 'Don't Let The Day Go By' which has a pleasant chorus and only the rock-out fuzz guitar is missing, this time Eric plumping for a Benson-esque flourish.
But, if fusion guitar is your bag and you want an easy listen, Mantel's your man. A good personal showcase for the guy and a four star album but for those vocal tracks.
***½
Review by David Randall
Tai-Chi
© 2006 Holistic Music Entertainment. All rights reserved.